We look forward to looking after you for all your warrants and service needs.
Kind regards, Simon and Jackie
Call 04 902 6066 or visit 41 Seaview Road, Paraparaumu Beach – next to "Fuelling Kapiti" Petrol Station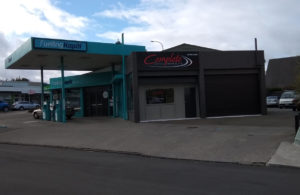 "….I like that Simon always tells me of any issues that will come up, like brakes or tyres needing to be replaced for an upcoming WOF or my Road User Charges. This means I never get caught out, my cars are always safe and I don't have any nasty, sudden surprises. Simon always sources the best parts for a fair price, and he explains what he's doing and why…." Read more
Thank you for considering Complete Vehicle Services in Paraparaumu on the Kapiti Coast for your car servicing and repairs.
You get Peace of Mind because we are MTA Certified.
Naturally – at CVS we service and repair ALL car makes and models.
Simon Moody is a Factory-Trained and approved Holden and Kia Mechanic.
Warrants of Fitness, Tune-Ups, and pre-holiday checks are our specialty.
For your convenience – Simon and Jackie are happy to pick-up and drop-of your vehicle!
Call us now on 04 902 6066 to arrange your next  Vehicle Service or Warrant of Fitness or email us at cvsltd@windowslive.com 
Pre-purchase appraisals can save you a lot of headaches down the track…so if you're thinking of buying a used car privately, get Simon to do a thorough check before you part with your money.
Complete Vehicle Services Paraparaumu
Like us on Facebook